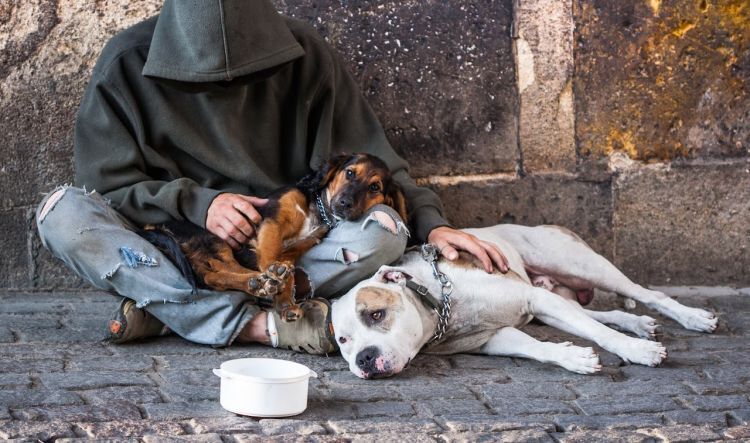 Utah Health and Wellness Company Loves Helping the Pets of the Homeless
Zia Zensations works with Street Dawgs Animal Rescue by providing pet-calming hemp products to traumatized dogs for the homeless.
Zia Zensations, a company dedicated to health and wellness, together with The Street Dawg Crew of Utah, is teaming up to ease pets through the change of being abandoned and other traumas.
Local entrepreneur Joe Zia, founder of Zia Zensations and a local store owner (South Town Mall), shares why he started this initiative.
"I know these hemp-based products can help and I'm very glad I can make this effort that should help a lot of dogs. If I can save the life of one dog, it will be worth it".
Zia Zensations is teaming up with local shelters, rescue, and adoption centers to ease pets into their suddenly changed lives. Zia Zensations is a health store based in Sandy Utah--as well as online--that focuses on Essential Oils, Hemp-based (CBD), and other products to improve the wellbeing of both humans and animals.
Every Dog Has a Tale
Being abandoned is usually the last of the traumas many pets face that end up rescued or in a shelter. In too many cases it's not as simple as the dog was left at the shelter because the owners could no longer care for them. In fact, many are coming from situations where they were physically and emotionally wounded before having to face the stress of a new situation with other humans and animals with whom they have no bond. The human (and animal) rescuers must deal with multiple animals who each have their own story and need healing in some way. Physical abuse is the most jarring to witness but is the easiest to heal. The mental trauma takes time but is healed over and over again by the resilience of the animals themselves, the patience of the rescuers, and their new owners.
Joe Zia, of Zia Zensation, is aware of this and wants to help these animals and their rescuers through his donation to them of CBD for pets.
One of the organizations Joe has teamed up with is the Street Dawg Crew of Utah. Margie, one of the founders of the organization says "Stress in the shelters will be helped a lot. To see this take the edge off of their nerves will be a relief to my heart.'
The Heart of Street Dawg Crew
Street Dawgs is a multipurpose care group that not only rescues animals but also provides free spay/neutering operations. Their outreach is especially focused on the homeless and their pets. Of the estimated 600,000 homeless in America, 5-10% (or more) have pets. Caring for these pets is often what keeps their owners alive. Street Dawgs also provides quality food for our homeless citizens and their four-legged companions.
Street Dawgs was founded in 2017 in Salt Lake City and have an expanding network that is reaching out to the other homeless pet owners of Utah.
Why CBD or Hemp Oil Extracts?
Cannabidiol or CBD is a non-intoxicating compound found in hemp and marijuana. Both humans and dogs have systems that can make use of cannabinoids. There are studies going back decades researching its usefulness and ongoing research continues to support the potential benefits. The FDA recently approved Epidiolex for use in some of the rarest, cruelest forms of epilepsy found in children. Other studies show positive responses in dogs as well. These chemical compounds affect how we feel and function on the neurological level. There is a great deal of observed benefit from the use of CBD, from seizure control, anxiety, pain, inflammation, and even appetite management.
CBD versus THC
THC or Tetrahydrocannabinol is the main psychoactive component of marijuana (or cannabis). The cannabis plant has at least 65 types of cannabinoids. Because THC and CBD are both cannabinoids, it has been easy to blur the lines between them to create a confusing public policy response. CBD is mostly extracted from hemp, which has no psychoactive properties, however, modern plant-oil extraction techniques could easily separate the CBD in marijuana from THC.
Separating medicinal drugs from recreational drugs is more difficult culturally than it is scientifically. The good news is that due to the benefits of CBD, trust will grow in time as fictitious claims (such as CBD cures cancer) will be replaced with proven results for specific ailments. Getting to those results means there is still work to do for science, for public understanding, and for legal regimes to fully harness the medicinal benefits of CBD.
Help the Dogs Find a Home Not a Grave.
Added to the ongoing scientific evidence, anecdotal stories abound on the benefits of hemp oil extract, both in humans and in dogs. If used wisely, many report seeing Hemp extract help their dog's anxiety or pain. Those who rescue dogs see a lot of dogs with deep anxiety and too many that are in pain. Dealing with stressed animals is a major challenge. However, the biggest problem shelters have is finding a home quickly for a dog. They only have so much space and traumatized dogs are harder to place. Dogs are rescued from situations that have left them confused, angry, and feeling a deep level of danger. Hemp extracted CBD can never compete with the healing effects of the dedicated nurturing of the committed animal rescue volunteers or a loving home with committed owners, but it can take the edge off an anxious animal so that the transitions are smoother.
Media Contact:
Name: Troy Campbell
Phone: 801-792-1467
Email: [email protected]
Company: Zia Zensations
###